Green Wall Home Kit Color slate
Planters + Magnetic brackets + Sticks + Water level indicator
Availability in the UK:
In Stock
All deliveries are made from the UK warehouse. No delays because of customs and borders. 30 days return and refund. 3 years warranty.
incl. V.A.T. |

free shipping
Shipping:
Up to £29.99 = £3.99
Over £30.00 = free shipping
Trade customer? Please call to get trade discounts.
Please note that due to the high data volume, the 3D viewer should be loaded with an existing WLAN connection. On mobile devices, the viewer allows you an augmented reality (AR) function. You can visualize a LECHUZA planter in your room. To do so, please click on the cube icon.
Special features:
Self-watering planter with stick irrigation system - 3 pcs.
Water level indicator
Plants can easily be placed in this planter without the need for repotting
High-quality plastic with matte surface
Magnetic brackets and metal bar included
Fresh greens are an essential part of healthy cooking. With the Green Wall Home Kit Color from LECHUZA, a space-saving and eye-catching herb garden is created instantly.

Thanks to the practical magnetic brackets, the three CUBE Color 14 planters can be attached easily to the corresponding magnetic bar on the walls. The high quality, extra strong magnets ensure a secure hold.

With their sleek matte colours and finely crafted structure, the herb pots set stylish designs in the kitchen, creating small hanging gardens in unusual places. The pots can be arranged as desired and be even be used as a holder for kitchen utensils. Even in the smallest of kitchens there is plenty of room for fresh ideas!

For stress-free plant care without daily watering
The LECHUZA irrigation system takes the stress out of plant care. Plants can easily be placed into the Glossy containers with the liner, without the need for time-consumuming repotting. A stick insterned into the liner from below transports moisture evenly to the roots. the water level indication can be used to check when it's time fo refill the resevoir. Plant care canbe that simple!

Intended use:
Only use the Green Wall Home Kit as described in the instructions. Any other use or modification of the product is not permitted.
The maximum total weight of a CUBE Glossy 14 planters with plants and water mot not exceed 1.75 kg (3.85 lbs)
Product information
Wick
With wick irrigation system
No repotting necessary - simply place store-bought herbs with grow pot in the planter
Food safe
Easy to use
Insert wick in the grow pot.
Place grow pot in CUBE Color, water - done.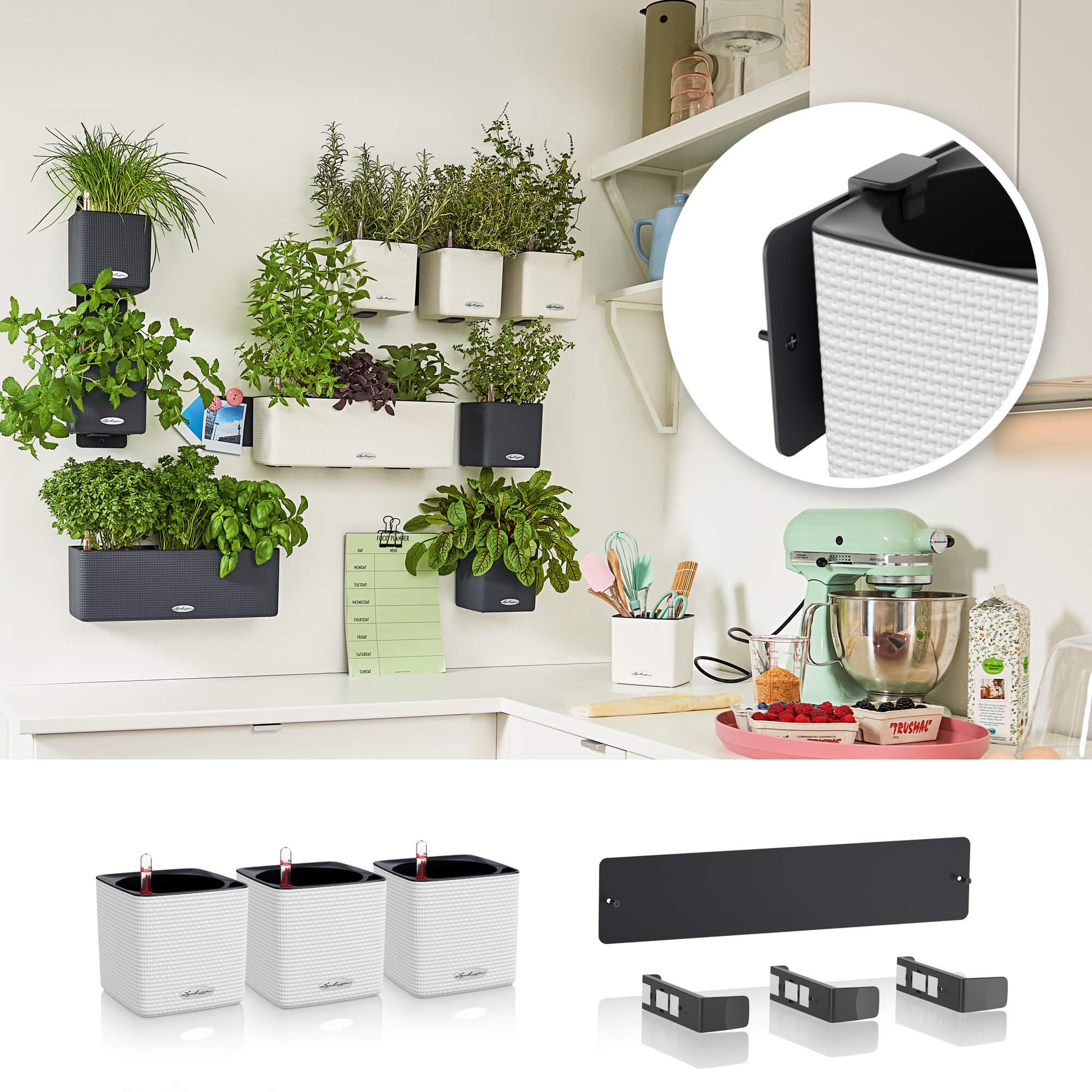 Green Wall Home Kit (CUBE Color 14)
Practical and space-saving. With the Green Wall Home Kit Color starter set, our beloved herb pots will find room in even the smallest kitchen.
3 × Planter with liner (CUBE Color 14) + wicks + 3 × magnetic holder + metal bar + screws
Metal bar: 48 x 10 cm
Magnetic brackets: 4 x 14 cm
Dimensions & Capacity
Green Wall Home Kit Color
| | |
| --- | --- |
| Dimensions ~ (W x D x H) | 48 x 15 x 14 cm |
| Water reservoir | 3 x 0,4 l |
| Plant volume | 3 x Growpot |
| Planter liner, dimension ~ | 3 x Ø 10-12 cm |
| Plant height max. | 20 cm |
* Promotion is valid from 1st-31st August 2022 and only while stocks last. No cash payment possible. Promotion does not apply to previous orders, open orders, set offers or spare parts. Cannot be combined with promo codes. Free delivery on all orders over £30 shipped to the UK Mainland.

** If your order consists of goods with different delivery periods, then delivery will be made according to the longest delivery timeframe, that is, the order is delivered in its entirety as a complete order.