CUBE Cottage 30 granite
Planter + Removable planter liner + Water level indicator + Plant substrate for drainage layer
Availability in the UK:
In Stock
All deliveries are made from the UK warehouse. No delays because of customs and borders. 30 days return and refund. 3 years warranty.
incl. V.A.T. |

free shipping
Shipping:
Up to £29.99 = £3.99
Over £30.00 = free shipping
Trade customer? Please call to get trade discounts.
Special features:
Self-watering planter with wicker style
Removable planter liner with water level indicator
High-quality plastic with matte surface
High-quality pure mineral plant substrate included
For outdoor and indoor use
The CUBE Cottage planter features the popular wicker look in a real cube shape with equally long sides. The CUBE Cottage is ideal for plants with a large root volume.
Product information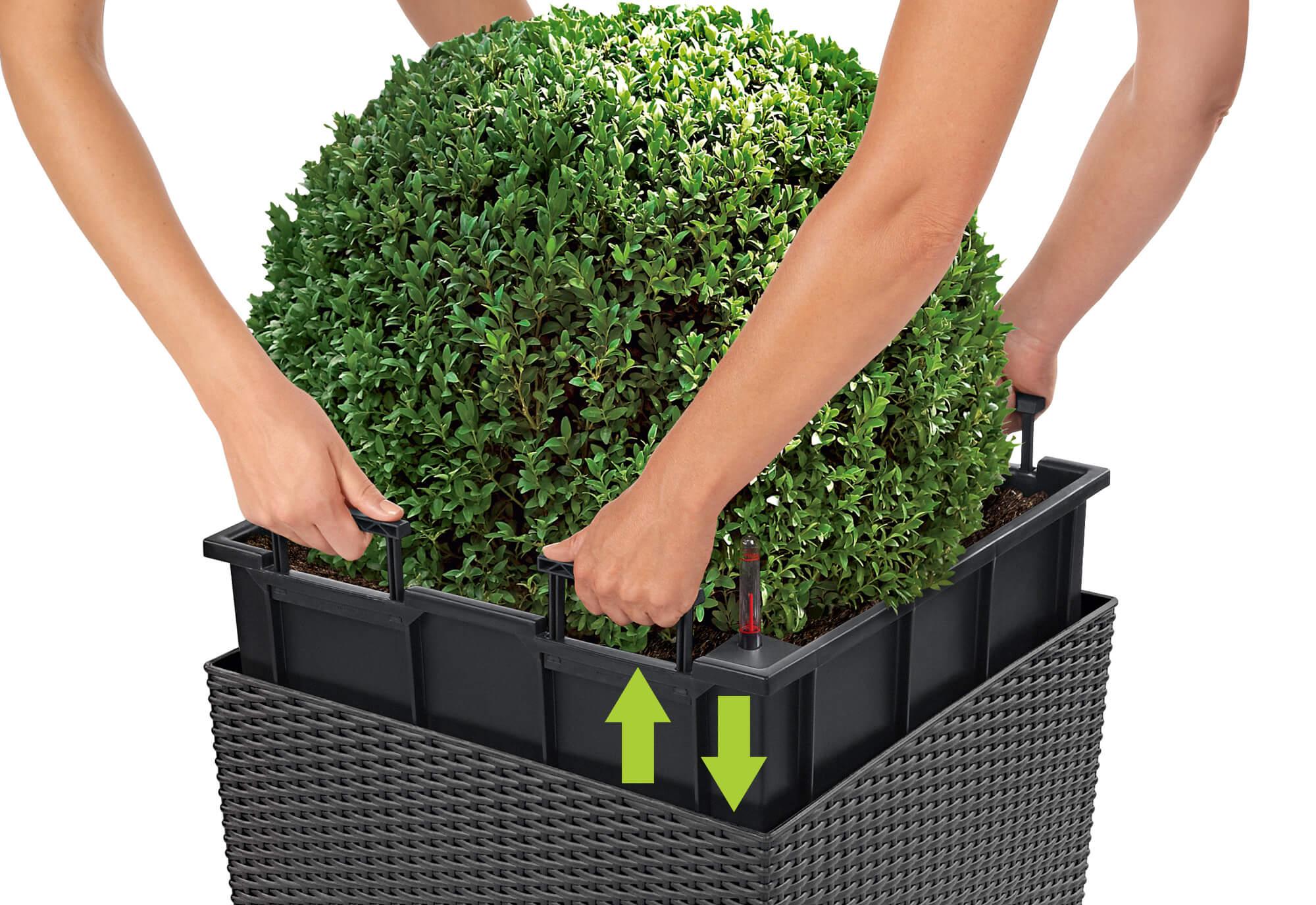 planter liner
sturdy carrying handles (patented)
easy transport even for tall plantings
can be exchanged on the spot and easily moved for winter storage
The CUBE 40 planter liner also fits in the CUBICO 40 and TRIO 40.
drain plug: is removed to allow excess rainwater to drain when used outdoors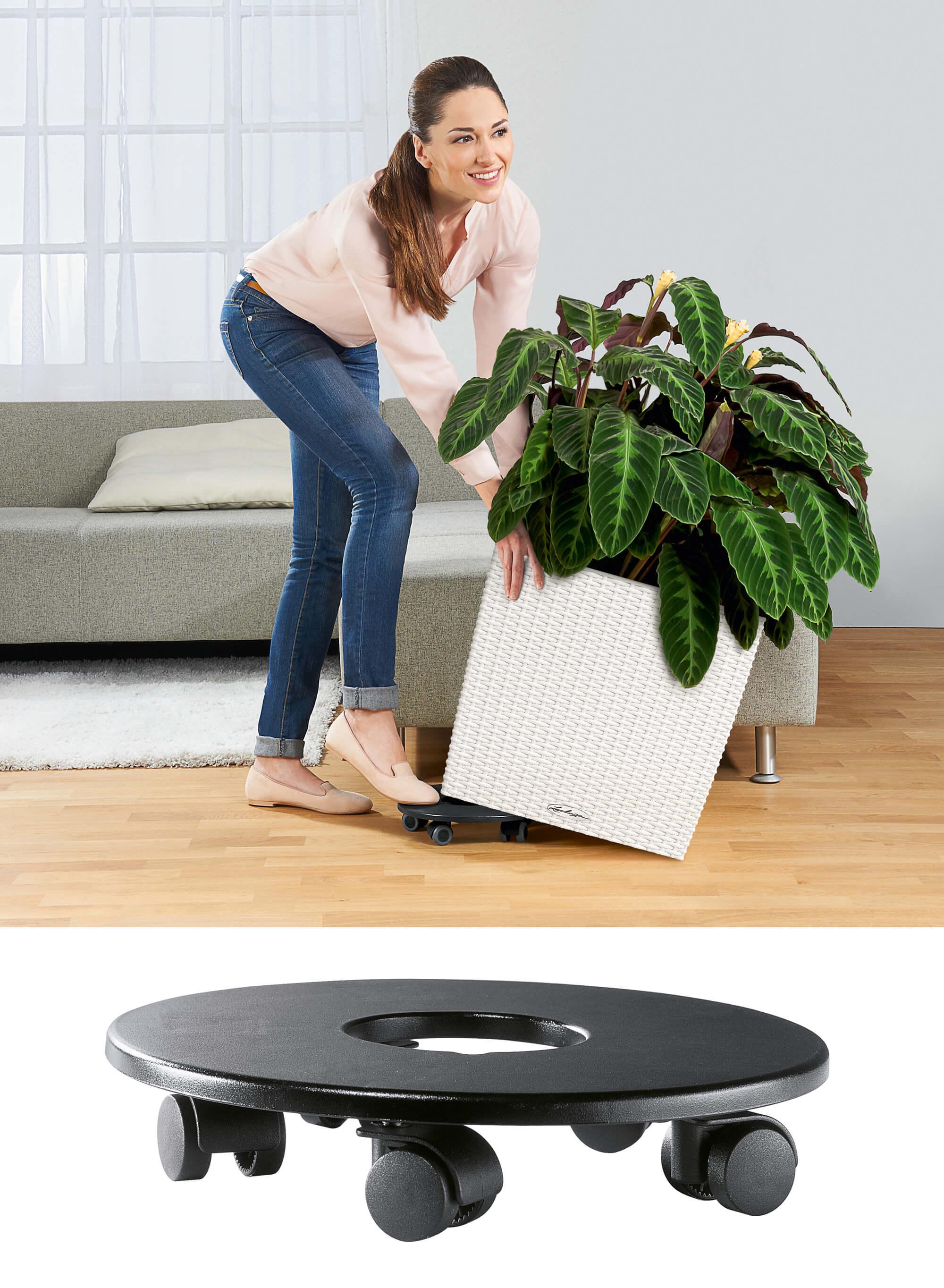 Available accessories: coaster
mobile in every direction
with four sturdy rollers
available for CUBE 50
Dimensions & Capacity
| | | | |
| --- | --- | --- | --- |
| | CUBE Cottage 30 | CUBE Cottage 40 | CUBE Cottage 50 |
| Dimensions ~ (W x D x H) | 29,5 x 29,5 x 30 cm | 39,0 x 39,0 x 40 cm | 49 x 49 x 49,5 cm |
| Water reservoir | 3 l | 7,5 l | 14 l |
| Plant volume | 12 l | 31 l | 61 l |
| Planter liner, dimension ~ | 25,5 x 25,5 cm | 34,5 x 34,5 cm | 44 x 44 cm |
| Planting depth | 20 cm | 28 cm | 32 cm |
| Plant height max. | 60 cm | 100 cm | 160 cm |
CUBE Cottage 30
| | |
| --- | --- |
| Dimensions ~ (W x D x H) | 29,5 x 29,5 x 30 cm |
| Water reservoir | 3 l |
| Plant volume | 12 l |
| Planter liner, dimension ~ | 25,5 x 25,5 cm |
| Planting depth | 20 cm |
| Plant height max. | 60 cm |
CUBE Cottage 40
| | |
| --- | --- |
| Dimensions ~ (W x D x H) | 39 x 39 x 40 cm |
| Water reservoir | 7,5 l |
| Plant volume | 31 l |
| Planter liner, dimension ~ | 34,5 x 34,5 cm |
| Planting depth | 28 cm |
| Plant height max. | 100 cm |
CUBE Cottage 50
| | |
| --- | --- |
| Dimensions ~ (W x D x H) | 49 x 49 x 49,5 cm |
| Water reservoir | 14 l |
| Plant volume | 61 l |
| Planter liner, dimension ~ | 44 x 44 cm |
| Planting depth | 32 cm |
| Plant height max. | 160 cm |