CLASSICO LS 43 espresso metallic
with interchangeable planter liner
Availability:
In Stock
Purchase without risk: 30 days return and refund. 3 years warranty. True LECHUZA planters.
incl. V.A.T. |

free shipping
Shipping:
Up to £49.99 = £3.99
Over £50.00 = free shipping
Trade customer? Please call to get trade discounts.
Special features:
• Self-watering planter with water level indicator
• Removable planter liner
• High-quality plastic with metallic or glossy surface
• High-quality pure mineral plant substrate included
• For outdoor and indoor use
CLASSICO LS with interchangeable planter liner (patented), called liner system.
The unique advantages of CLASSICO LS:
Changing the planting is easy
Trimming roots is a snap
Our tip: From time to time, rinse the plant in the interchangeable liner under running water to remove dust.
Mobile even when planted: CLASSICO 43 to 70 is mobile even when planted thanks to the optional coaster.
Product information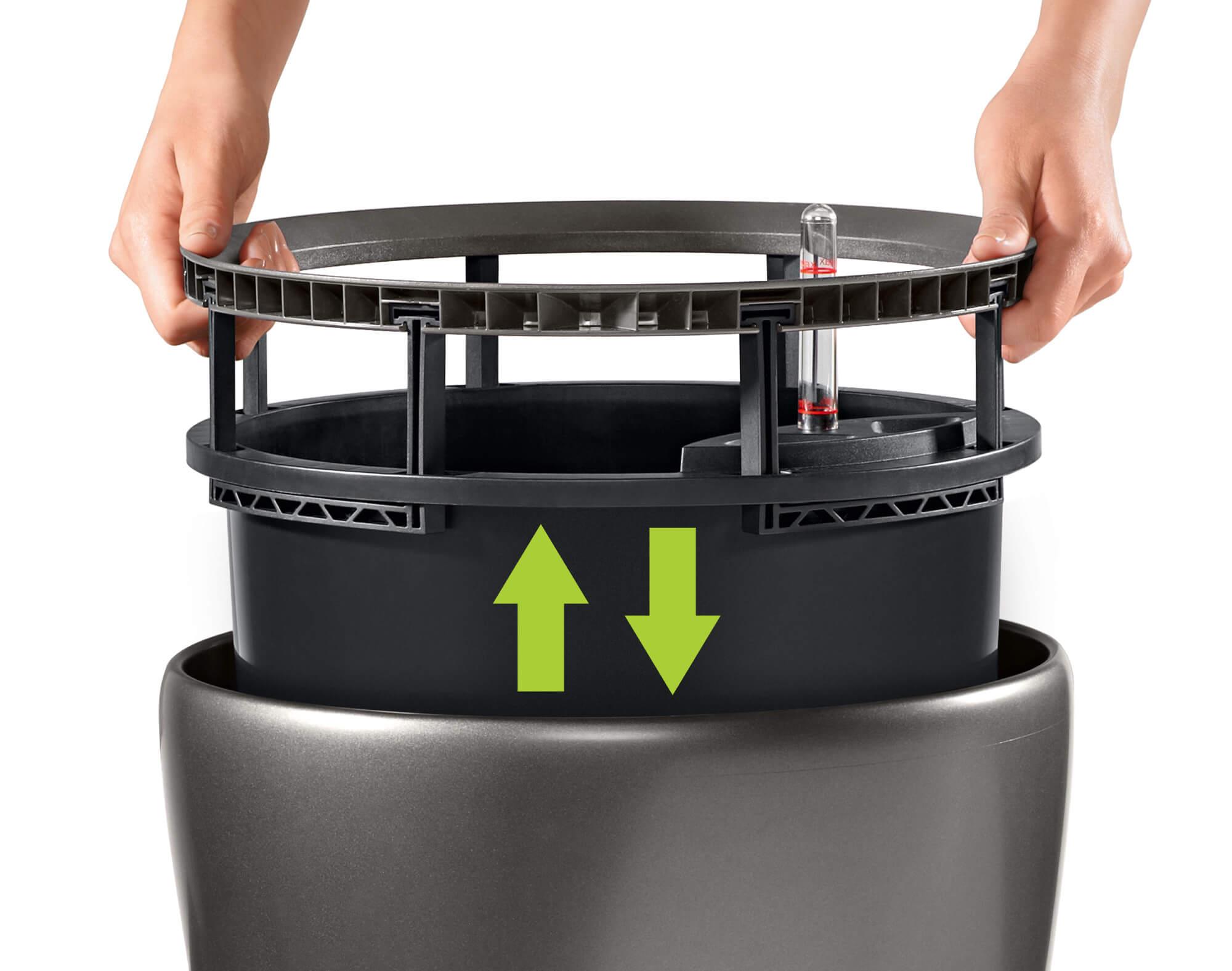 Planter liner
recessed colour-coordinated frame handles (patented)
easy transport even for tall plantings
can be exchanged on the spot
change plants, repot them, trim the roots or rinse the leaves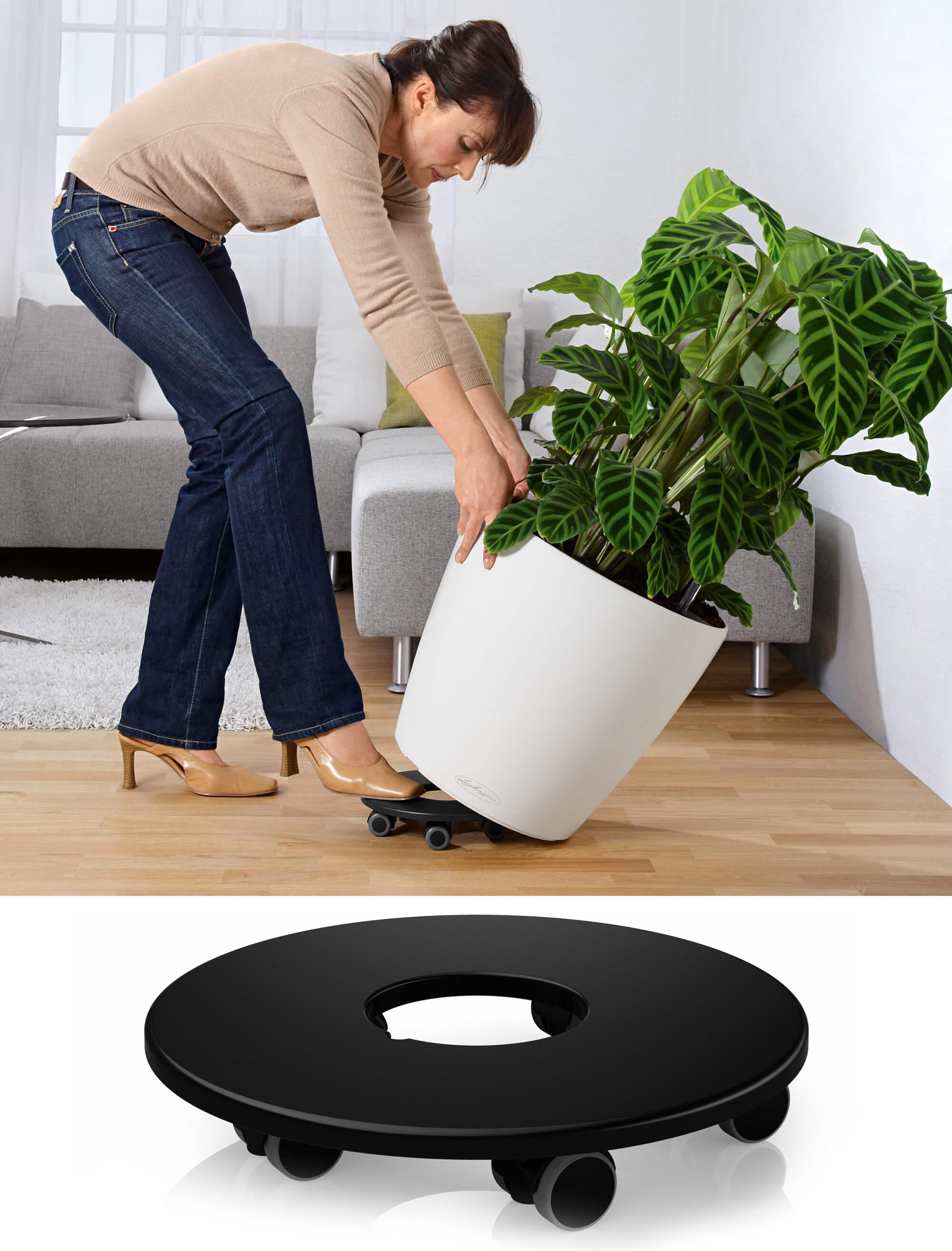 Available accessories: coaster
mobile in every direction
with sturdy rollers
makes CLASSICO mobile – without being seen
for sizes 43, 50
Dimensions & Capacity
| | | | | | |
| --- | --- | --- | --- | --- | --- |
| | CLASSICO LS 21 | CLASSICO LS 28 | CLASSICO LS 35 | CLASSICO LS 43 | CLASSICO LS 50 |
| Dimensions ~ (W x H) | Ø 22 x 20 cm | Ø 28,5 x 26 cm | Ø 36 x 32,5 cm | Ø 43,5 x 39,5 cm | Ø 49,5 x 46,5 cm |
| Water reservoir | 0,8 l | 2 l | 3,7 l | 6 l | 9 l |
| Plant volume | 3 l | 7 l | 13 l | 28 l | 40 l |
| Planter liner, dimension ~ | Ø 18,5 cm | Ø 24 cm | Ø 29,5 cm | Ø 36,5 cm | Ø 42,5 cm |
| Planting depth | 13,5 cm | 17,5 cm | 22,5 cm | 26,5 cm | 31,5 cm |
| Plant height max. | 50 cm | 70 cm | 90 cm | 100 cm | 120 cm |
CLASSICO SL 43
| | |
| --- | --- |
| Dimensions ~ (W x H) | Ø 43,5 x 39,5 cm |
| Water reservoir | 6 l |
| Plant volume | 28 l |
| Planter liner, dimension ~ | Ø 36,5 cm |
| Planting depth | 26,5 cm |
| Plant height max. | 100 cm |
CLASSICO LS 50
| | |
| --- | --- |
| Dimensions ~ (W x H) | Ø 49,5 x 46,5 cm |
| Water reservoir | 9 l |
| Plant volume | 40 l |
| Planter liner, dimension ~ | Ø 42,5 cm |
| Planting depth | 31,5 cm |
| Plant height max. | 120 cm |
CLASSICO LS 21
| | |
| --- | --- |
| Dimensions ~ (W x H) | Ø 22 x 20 cm |
| Water reservoir | 0,8 l |
| Plant volume | 3 l |
| Planter liner, dimension ~ | Ø 18,5 cm |
| Planting depth | 13,5 cm |
| Plant height max. | 50 cm |
CLASSICO LS 28
| | |
| --- | --- |
| Dimensions ~ (W x H) | Ø 28,5 x 26 cm |
| Water reservoir | 2 l |
| Plant volume | 7 l |
| Planter liner, dimension ~ | Ø 24 cm |
| Planting depth | 17,5 cm |
| Plant height max. | 70 cm |
CLASSICO LS 35
| | |
| --- | --- |
| Dimensions ~ (W x H) | Ø 36 x 32,5 cm |
| Water reservoir | 3,7 l |
| Plant volume | 13 l |
| Planter liner, dimension ~ | Ø 29,5 cm |
| Planting depth | 22,5 cm |
| Plant height max. | 90 cm |
*No cash payment possible. Promotion does not apply to previous or open orders. In addition to that you do not pay shipping costs within the UK Mainland on all orders over £50.00