BALCONERA Stone 50 stone grey
Planter + Removable planter liner + Water level indicator + Plant substrate for drainage layer
Availability in the UK:
In Stock. Next day delivery if order before 2pm**
All deliveries are made from the UK warehouse. No delays because of customs and borders. 30 days return and refund. 3 years warranty.
incl. V.A.T. |

free shipping
Shipping:
Up to £29.99 = £3.99
Over £30.00 = free shipping
Trade customer? Please call to get trade discounts.
Special features:
Self-watering planter with water level indicator
Removable planter liner
High-quality plastic with natural stone look
High-quality pure mineral plant substrate included
For balconies, fences, window sills, walls, tables etc.
With BALCONERA Stone, the classic balcony box is also available in the trendy surface structure with the natural and modern flair. There are no limits to trendy planting in a uniform look!

With the versatile Stone Collection in various shapes and sizes, there is a suitable container for every design idea that spreads a rustic charm outdoors. Delicate early flowering plants, lush summer blossoms, autumnal arrangements or winterly plantings - the balcony box in natural stone look offers an atmospheric contrast to the plants at any time of year.

The BALCONERA Stone is made of high-quality, weatherproof plastic and is, therefore, easy to transport. The LECHUZA irrigation system also provides the optimum water supply for the plants as usual. Colourful, splendidly growing flowers, a relaxed ambience and cosy hours in the sun - this is how you imagine the perfect balcony, where you can simply switch off and relax in the middle of the city.

The LECHUZA classic helps make this dream come true and reliably takes care of plants with the irrigation system and water reservoir - even on hot summer days. Frequent watering is no longer necessary and, meaning that there is more time for relaxation. The removeable plant inserts with retractable handles can easily be planted on the ground or on a table and then inserted into the pre-assembled boxes.

With its stone look and straight form, BALCONERA Stone fits perfectly with modern minimalist architecture and transforms the space above the roofs into a cosy oasis of relaxation and enjoyment.
Product information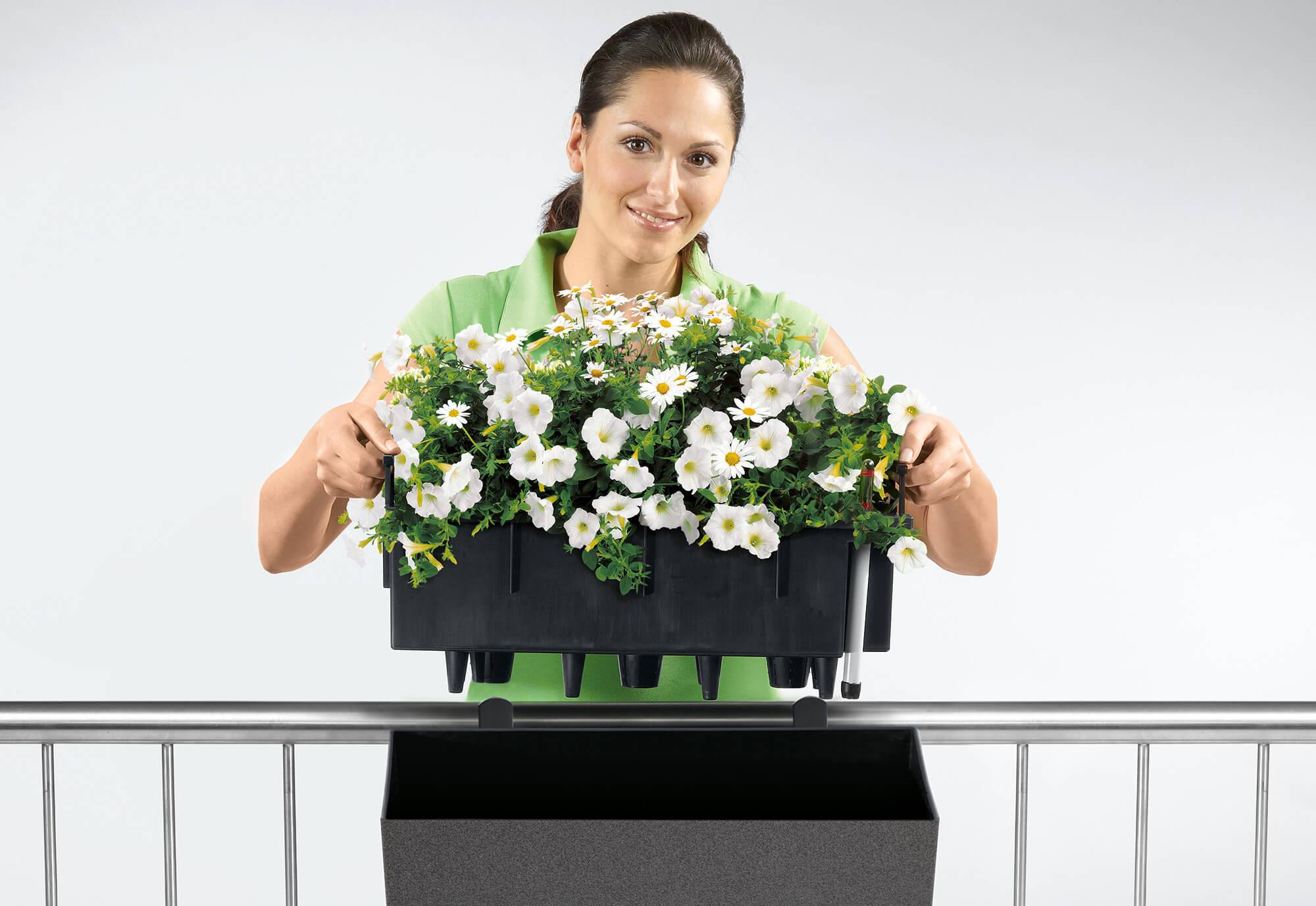 BALCONERA planter liner
sturdy carrying handles (patented)
conveniently plant the liners on the ground or a potting table
attach BALCONERA to railings or walls
easy transport even for tall plantings
can be exchanged on the spot and easily moved for winter storage
drain plug: is removed to allow excess rainwater to drain when used outdoors
TIP:
In case of inclement weather, you can quickly move your plants indoors without having to completely remove your BALCONERA, thanks to the planter liner!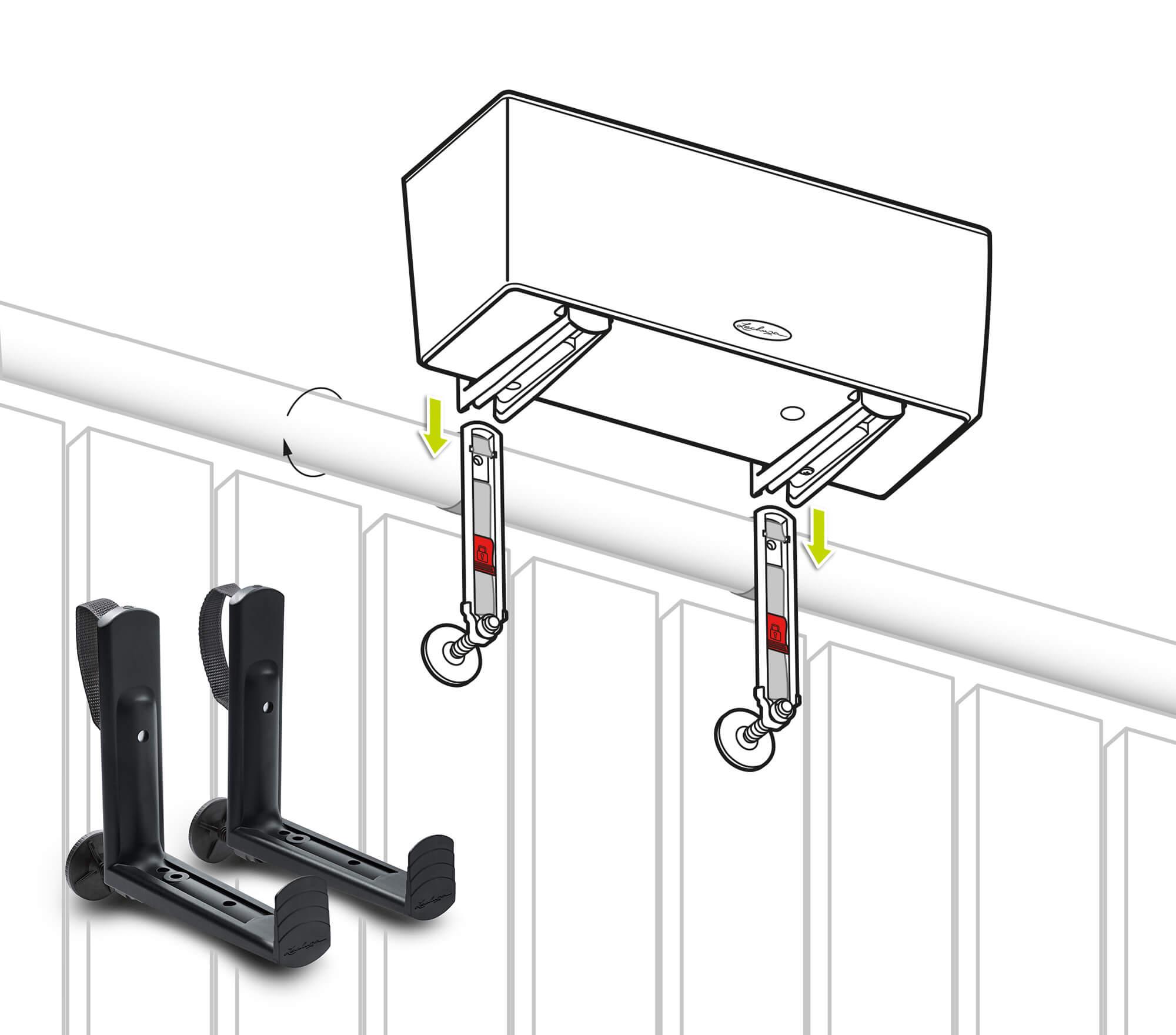 Available Accessories: LECHUZA balcony brackets
easy installation, sturdy support
compatible with BALCONERA 50 and 80
suitable for mounting on round and angled railings with a circumference up to 38 cm
soft textile straps prevent scratching of railings
can carry up to 25 kg
suitable for mounting on walls
With the adjustable screws, you can position BALCONERA so that it's level with your railing
The brackets are invisible from the front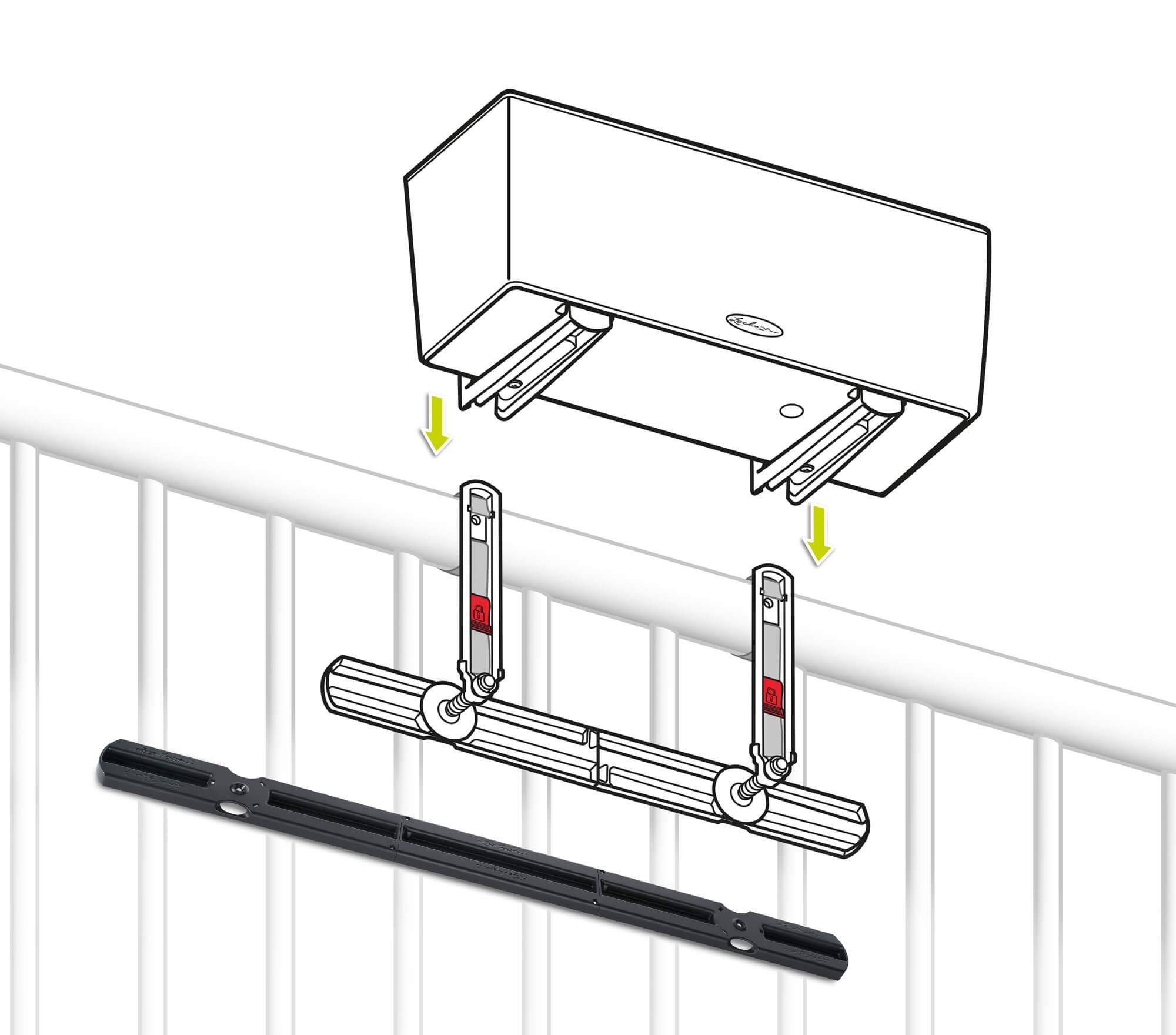 Available Accessories: LECHUZA extension for balcony brackets
a supplement for railings, ensuring compatibility regardless of spindle spacing
securely and perfectly fits every railing
compatible with BALCONERA 50 and 80
Dimensions & Capacity
| | | |
| --- | --- | --- |
| | BALCONERA 50 | BALCONERA 80 |
| Dimensions ~ (W x D x H) | 50 x 19 x 19 cm | 79 x 19 x 19 cm |
| Water reservoir | 3 l | 5 l |
| Plant volume | 8 l | 12 l |
| Planter liner, dimension ~ | 15,5 x 46,5 cm | 2 x 15,5 x 36,5 cm |
| Planting depth | 12 cm | 12 cm |
| Plant height max. | 30 cm | 30 cm |
BALCONERA 50
| | |
| --- | --- |
| Dimensions ~ (W x D x H) | 50 x 19 x 19 cm |
| Water reservoir | 3 l |
| Plant volume | 8 l |
| Planter liner, dimension ~ | 15,5 x 46,5 cm |
| Planting depth | 12 cm |
| Plant height max. | 30 cm |
BALCONERA 80
| | |
| --- | --- |
| Dimensions ~ (W x D x H) | 79 x 19 x 19 cm |
| Water reservoir | 5 l |
| Plant volume | 12 l |
| Planter liner, dimension ~ | 2 x 15,5 x 36,5 cm |
| Planting depth | 12 cm |
| Plant height max. | 30 cm |