CLASSICO Color 18 white
Planter + Removable Separator + Water level indicator + Plant substrate for drainage layer
Availability in the UK:
In Stock. Next day delivery if order before 2pm**
All deliveries are made from the UK warehouse. No delays because of customs and borders. 30 days return and refund. 3 years warranty.
incl. V.A.T. |

plus shipping costs
Shipping:
Up to £29.99 = £3.99
Over £30.00 = free shipping
Trade customer? Please call to get trade discounts.
Special features:
Self-watering planter with water level indicator
Removable separator
High-quality plastic with matte surface
High-quality pure mineral plant substrate included
For outdoor and indoor use
With its timeless shape, the popular CLASSICO Color is a must-have in any home. Its discreet matt colours and modern design blend wonderfully into any ambience - whether in the living room or on the balcony and terrace. The stylish CLASSICO Color also inspires in size 18 and fits perfectly on shelves, window sills, side tables and smaller surfaces, both indoors and out.

The CLASSICO Color family shows off an aesthetic appearance, high-quality design and smart functionality. Thanks to the reliable LECHUZA soil irrigation system, the plants can take as much water and nutrients as and when they need it and, in outdoor areas, the removable bottom screw protects against waterlogging in heavy rain.

The tastefully simple design and the silky matt surface in the harmonious colours white, slate grey and nutmeg set the scene for indoor and outdoor plants, and make the plant pot an indispensable partner. The matching CLASSICO Color is now available for all plants - for a uniform, modern look. A classic combination with a big effect!

Available accessories from CLASSICO Color 43: Roller coaster
Product information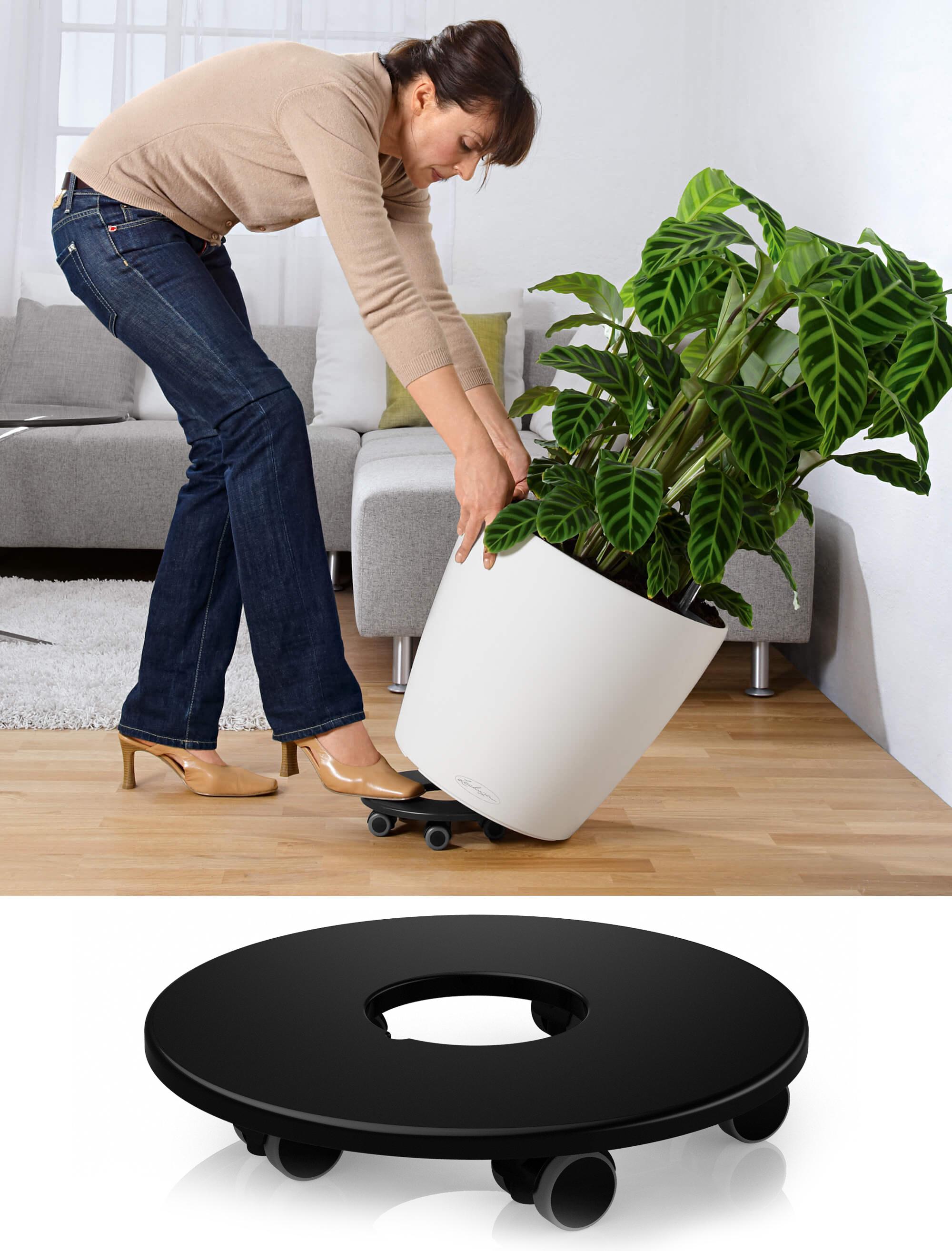 Available Accessories: Coaster
mobile in every direction
with sturdy rollers
makes CLASSICO mobile – without being seen
for sizes 43, 60
Dimensions & Capacity
| | | | | | | | |
| --- | --- | --- | --- | --- | --- | --- | --- |
| | CLASSICO Color 18 | CLASSICO Color 21 | CLASSICO Color 28 | CLASSICO Color 35 | CLASSICO Color 43 | CLASSICO Color 60 | CLASSICO Color 70 |
| Dimensions ~ (W x H) | Ø 19 x 17 cm | Ø 21,5 x 20,5 cm | Ø 27,5 x 26 cm | Ø 34,5 x 32,5 cm | Ø 42,0 x 39,5 cm | Ø 60,0 x 55,5 cm | Ø 70,0 x 64,5 cm |
| Water reservoir | 0,6 l | 0,8 l | 2 l | 3,7 l | 6 l | 17 l | 26,5 l |
| Plant volume | 2,5 l | 5 l | 9 l | 17 l | 33 l | 17 l | 26,5 l |
| Planter liner, dimension ~ | Ø 18 cm | Ø 21 cm | Ø 27 cm | Ø 33,5 cm | Ø 41 cm | Ø 57 cm | Ø 67 cm |
| Planting depth | 11 cm | 13,5 cm | 17,5 cm | 22,5 cm | 26,5 cm | 38,5 cm | 45,5 cm |
| Plant height max. | 30 cm | 50 cm | 70 cm | 90 cm | 100 cm | 140 cm | 170 cm |
CLASSICO Color 18
| | |
| --- | --- |
| Dimensions ~ (W x H) | Ø 19 x 17 cm |
| Water reservoir | 0,6 l |
| Plant volume | 2,5 l |
| Planter liner, dimension ~ | Ø 18 cm |
| Planting depth | 11 cm |
| Plant height max. | 30 cm |
CLASSICO Color 21
| | |
| --- | --- |
| Dimensions ~ (W x H) | Ø 21,5 x 20,5 cm |
| Water reservoir | 0,8 l |
| Plant volume | 5 l |
| Planter liner, dimension ~ | Ø 21 cm |
| Planting depth | 13,5 cm |
| Plant height max. | 50 cm |
CLASSICO Color 28
| | |
| --- | --- |
| Dimensions ~ (W x H) | Ø 27,5 x 26 cm |
| Water reservoir | 2 l |
| Plant volume | 9 l |
| Planter liner, dimension ~ | Ø 27 cm |
| Planting depth | 17,5 cm |
| Plant height max. | 70 cm |
CLASSICO Color 35
| | |
| --- | --- |
| Dimensions ~ (W x H) | Ø 34,5 x 32,5 cm |
| Water reservoir | 3,7 l |
| Plant volume | 17 l |
| Planter liner, dimension ~ | Ø 33,5 cm |
| Planting depth | 22,5 cm |
| Plant height max. | 90 cm |
CLASSICO Color 43
| | |
| --- | --- |
| Dimensions ~ (W x H) | Ø 42,0 x 39,5 cm |
| Water reservoir | 6 l |
| Plant volume | 33 l |
| Planter liner, dimension ~ | Ø 41 cm |
| Planting depth | 26,5 cm |
| Plant height max. | 100 cm |
CLASSICO Color 60
| | |
| --- | --- |
| Dimensions ~ (W x H) | Ø 60 x 55,5 cm |
| Water reservoir | 17 l |
| Plant volume | 90 l |
| Planter liner, dimension ~ | Ø 57 cm |
| Planting depth | 38,5 cm |
| Plant height max. | 140 cm |
CLASSICO Color 70
| | |
| --- | --- |
| Dimensions ~ (W x H) | Ø 70 x 64,5 cm |
| Water reservoir | 26,5 l |
| Plant volume | 145 l |
| Planter liner, dimension ~ | Ø 67 cm |
| Planting depth | 45,5 cm |
| Plant height max. | 170 cm |