Houseplants for the home workplace
Our work behavior has changed a lot in the last few months. Whereas before it was perfectly normal to drive to work every day, to discuss the newest projects over a coffee, or to sit in an office with several colleagues, for many of us it is currently: working in the home office.

Whether at the dining table or in a separate study - the ambience and the working environment must be right in any case. Green plants for a good indoor climate must not be missing, because they create coziness, clean the air and have a concentration-enhancing effect.

Space miracle for your home office
The modular PILA system
With the PILA planting system, the very personal home office area can be designed easily and flexibly. The stylish PILA planters with integrated irrigation in combination with the practical storage element offer many creative design options for the workplace and storage space for desk utensils, tablet & Co.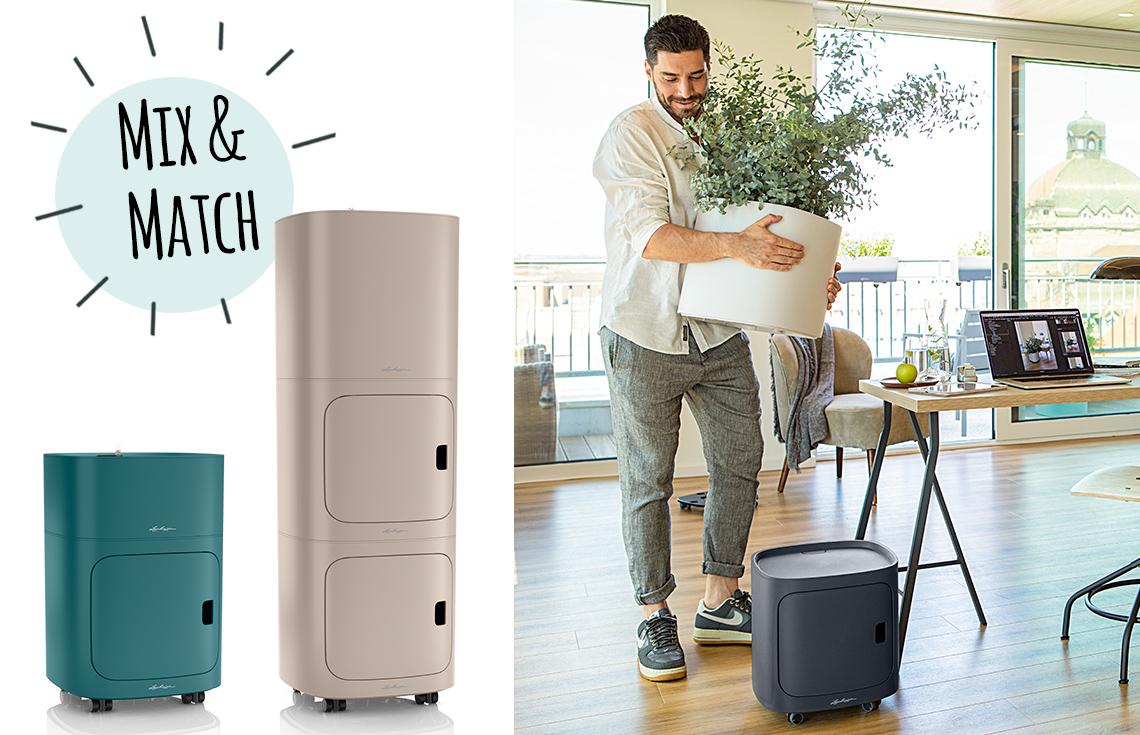 Thanks to the modular system, up to three planting or storage elements can be stacked on top of each other and provide more order and fresh greenery. So it goes from the living room jungle straight into the working day. And when the temperatures get warmer, the home office space can easily be moved to the balcony or terrace thanks to the practical coaster.
Good climate for fresh ideas
Houseplants not only make the home more comfortable, but also ensure a healthy indoor climate. Many green plants return almost 90 percent of the water they water into the air, bind dust particles and thus act as a natural humidifier. Therefore, plants such as Spathiphyllum and Calathea are not only beautiful eye-catchers, especially in the home office, but also always provide a fresh supply of oxygen.
Feel good and work effectively
One thing is certain: a green workplace makes you happy! Because plants relax and provide a pleasant balance to everyday life. Even if you don't have a green thumb, thanks to LECHUZA it's easy to create a little green paradise in your home that requires little work. Once inserted into the planters, the green co-inhabitants take care of themselves via the water reservoir and individually get exactly the amount of moisture and nutrients they need for optimal growth.
The best flower planters for a green home office: