TRIO Cottage 30 mocha
Planter + Removable planter liner + Water level indicator + Plant substrate
Availability in the UK:
In Stock
Purchase without risk: 30 days return and refund. 3 years warranty. True LECHUZA planters.
incl. V.A.T. |

free shipping
Shipping:
Up to £49.99 = £3.99
Over £30.00 = free shipping
Trade customer? Please call to get trade discounts.
Special features:
Self-watering planter with wicker style
3 removable planter liners with water level indicators
High-quality plastic with matte surface
3 high-quality pure mineral plant substrates included
For outdoor and indoor use
TRIO Cottage is a versatile trough planter with interchangeable planter liners and an optional trellis that is not only perfect as a patio divider or privacy screen but also for growing your own fruits and vegetables. The optional TRIO pedestals are the perfect addition.
Available as an accessory: TRIO trellis with adjustable cross braces (TRIO 30 comes with three; TRIO 40 with four) and plant clips
Accessories: the optional TRIO pedestals are the perfect addition
Product information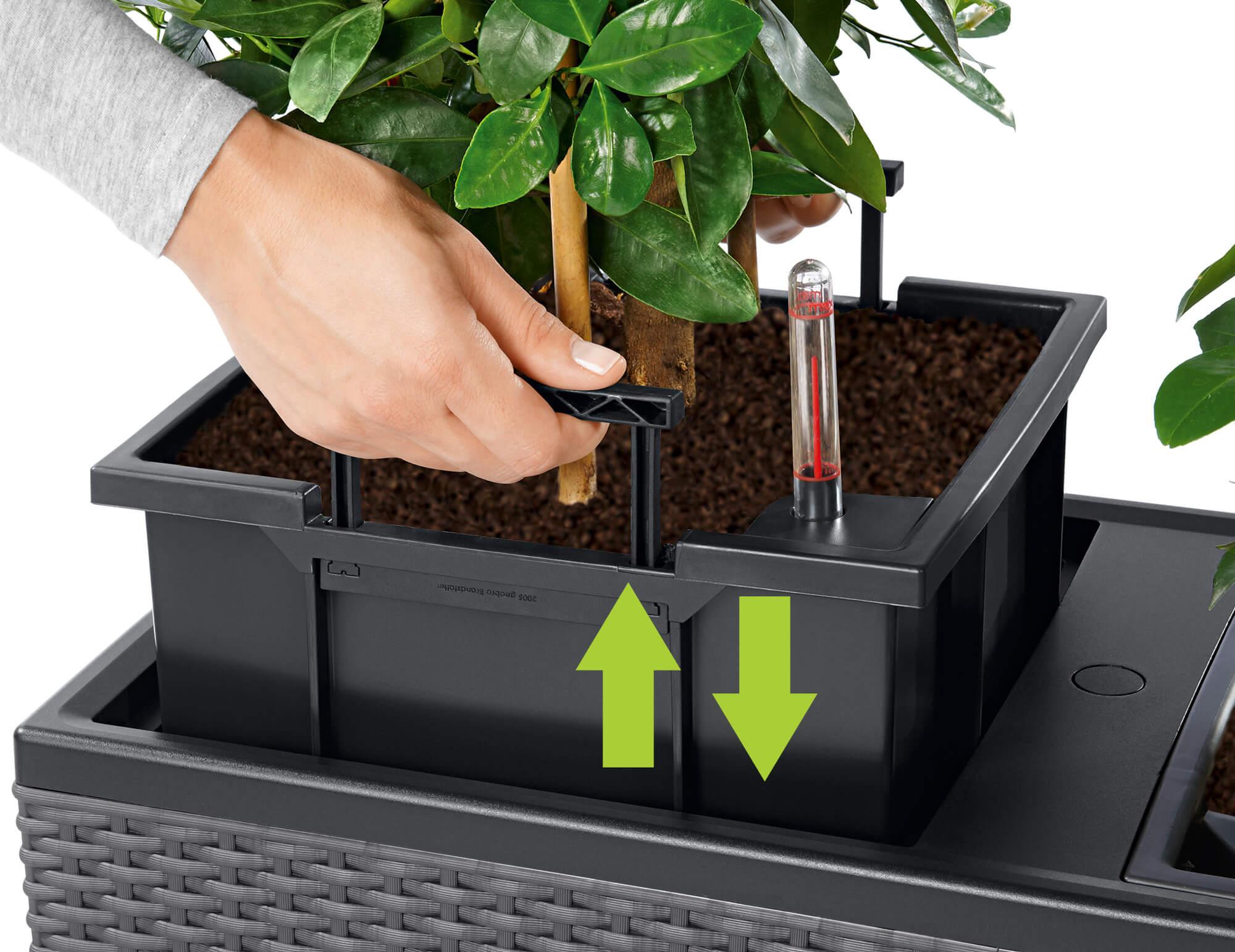 Planter liner
sturdy carrying handles (patented)
easy transport even for tall plantings
can be exchanged on the spot and easily moved for winter storage
The TRIO 30 planter liner also fits in the CUBICO 30, the TRIO 40 planter liner also fits in the CUBE 40, CUBICO Alto and CUBICO 40.
drain plug: is removed to allow excess rainwater to drain when used outdoors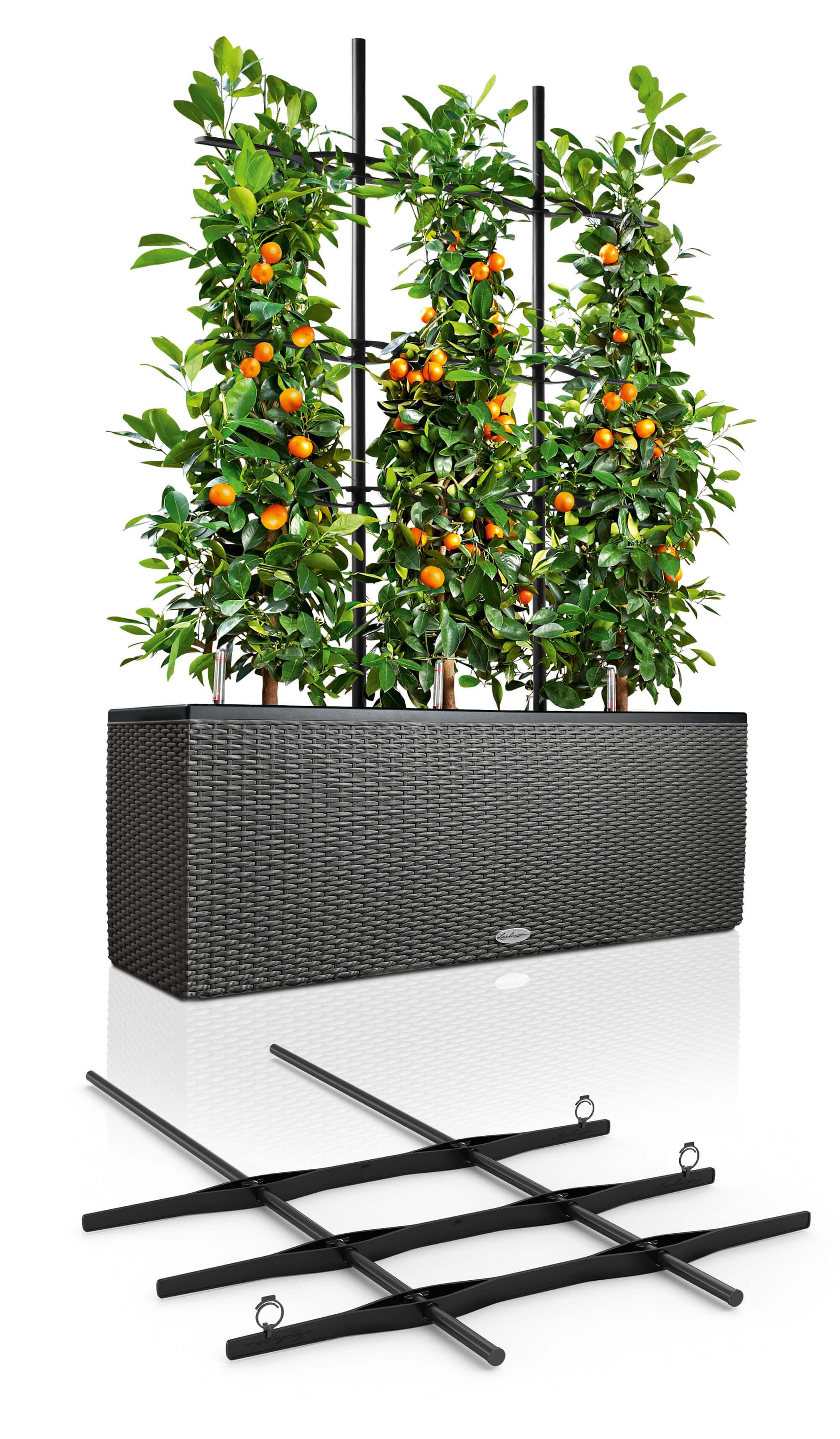 Available Accessories: Trellies
secure support for climbing plants, shrubs and vegetables
with adjustable cross braces (TRIO 30 comes with three; TRIO 40 with four) and plant clips
the optional TRIO trellis lets you create a green privacy screen in an instant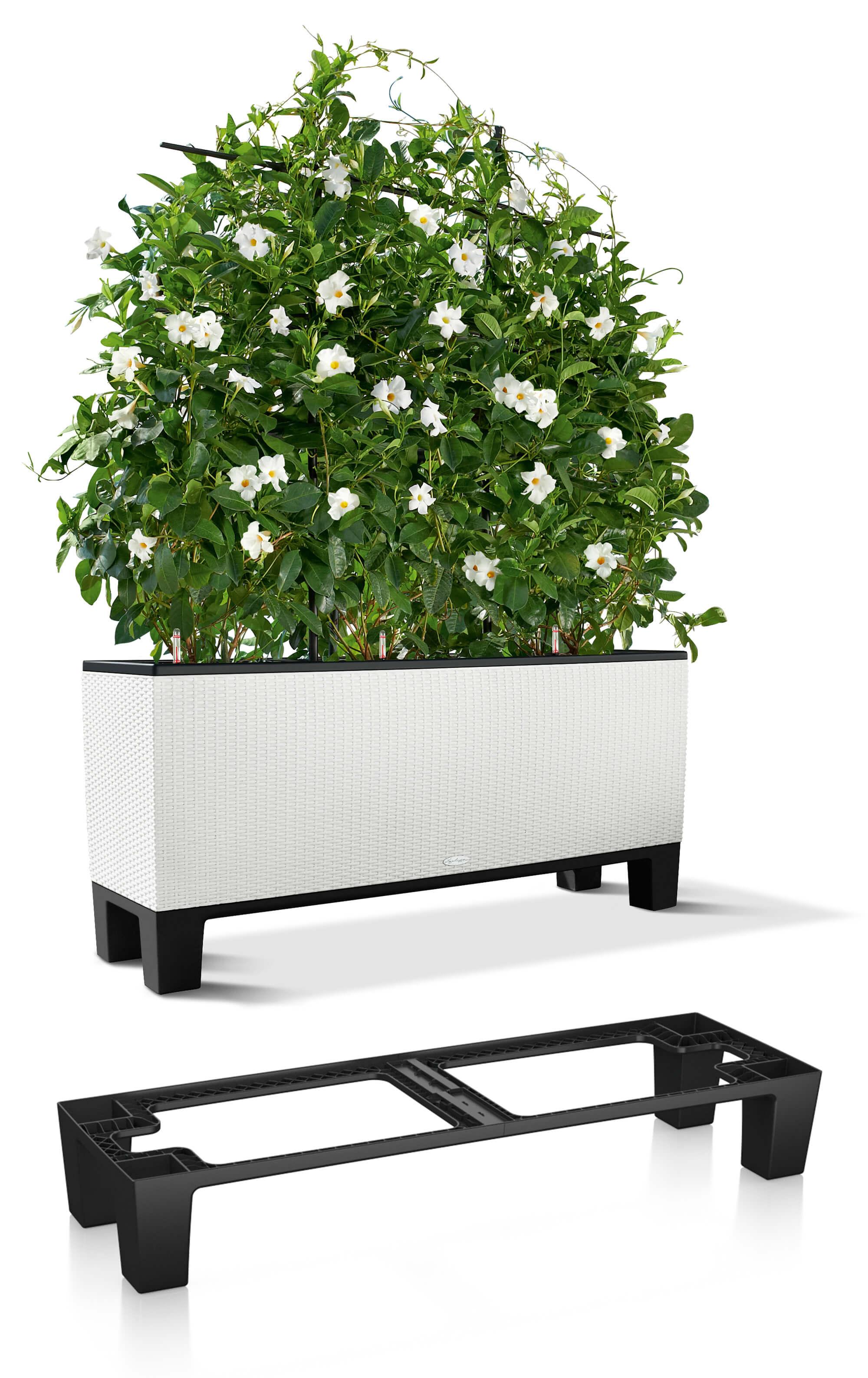 Available Accessories: Pedestals
aise TRIO 30 and 40 by 15 cm
available in two sizes for TRIO 30 and 40
Dimensions & Capacity
| | | |
| --- | --- | --- |
| | TRIO Cottage 30 | TRIO Cottage 40 |
| Dimensions ~ (W x D x H) | 100 x 32,5 x 34,5 cm | 129,5 x 42 x 44 cm |
| Water reservoir | 4 l (3x) | 7,5 l (3x) |
| Plant volume | 14 l (3x) | 31 l (3x) |
| Planter liner, dimension ~ | 25 x 25 cm (3x) | 34,5 x 34,5 cm (3x) |
| Planting depth | 23 cm | 28 cm |
| Plant height max. | 80 cm | 100 cm |
TRIO Cottage 30
| | |
| --- | --- |
| Dimensions ~ (W x D x H) | 100 x 32,5 x 34,5 cm |
| Water reservoir | 4 l (3x) |
| Plant volume | 14 l (3x) |
| Planter liner, dimension ~ | 25 x 25 cm (3x) |
| Planting depth | 23 cm |
| Plant height max. | 80 cm |
TRIO Cottage 40
| | |
| --- | --- |
| Dimensions ~ (W x D x H) | 129,5 x 42 x 44 cm |
| Water reservoir | 7,5 l (3x) |
| Plant volume | 31 l (3x) |
| Planter liner, dimension ~ | 34,5 x 34,5 cm (3x) |
| Planting depth | 28 cm |
| Plant height max. | 100 cm |
&sup1 5% of your order (without delivery cost) will be donated to Lucy Air Ambulance for Children + Free delivery on all orders over £30. Promotion is valid from 1st-31st October 2020. Lucy Air Ambulance for Children is a registered charity 1138457.
* LECHUZA sets and spare parts are excluded from all promotional discount codes.
**No cash payment possible. Promotion does not apply to previous or open orders. In addition to that you do not pay shipping costs within the UK Mainland on all orders over £30.00