QUADRO LS 50 white high-gloss
With interchangeable planter liner
Availability:
In Stock
Purchase without risk: 30 days return and refund. 3 years warranty. True LECHUZA planters.
incl. V.A.T. |

free shipping
Shipping:
Up to £49.99 = £3.99
Over £50.00 = free shipping
Trade customer? Please call to get trade discounts.
Special features:
• Self-watering planter with water level indicator
• Removable planter liner
• High-quality plastic with metallic or glossy surface
• High-quality pure mineral plant substrate included
• For outdoor and indoor use
The recessed frame handle is designed to match the colour of the planter and comes with each All-in-One Set ( sizes 21 to 50 ). This not only looks beautiful, but it also allows you an easy way of alternating the plants in your room.
The unique advantages of QUADRO LS:
Patented interchangeable planter liner
Recessed liner handles match the planter's colour, making them not only useful but a compliment to the planter's overall design
Optional add-on: coaster for QUADRO 43 and 50
Product information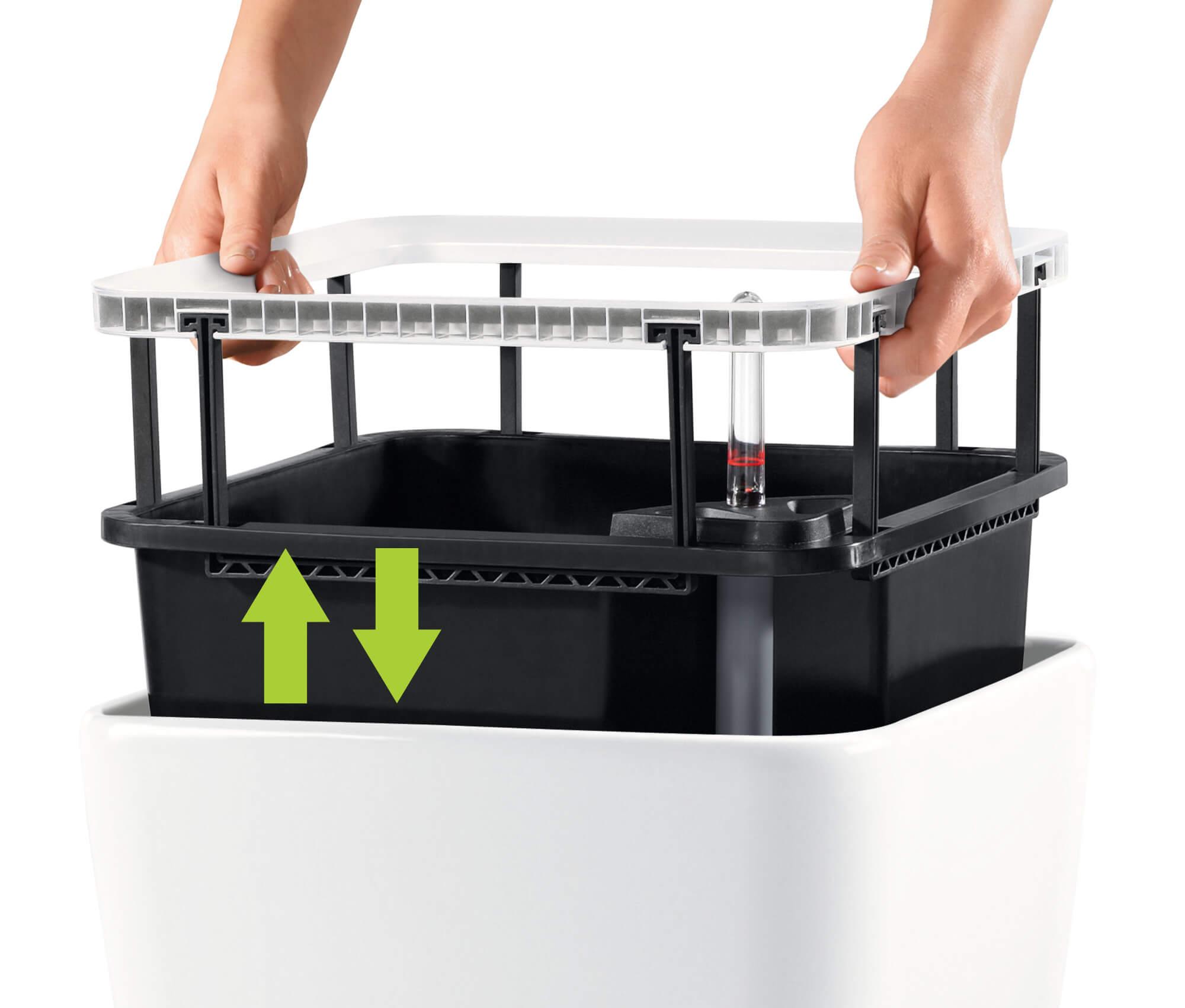 Planter liner
recessed colour-coordinated frame handles (patented)
easy transport even for tall plantings
can be exchanged on the spot
change plants, repot them, trim the roots or rinse the leaves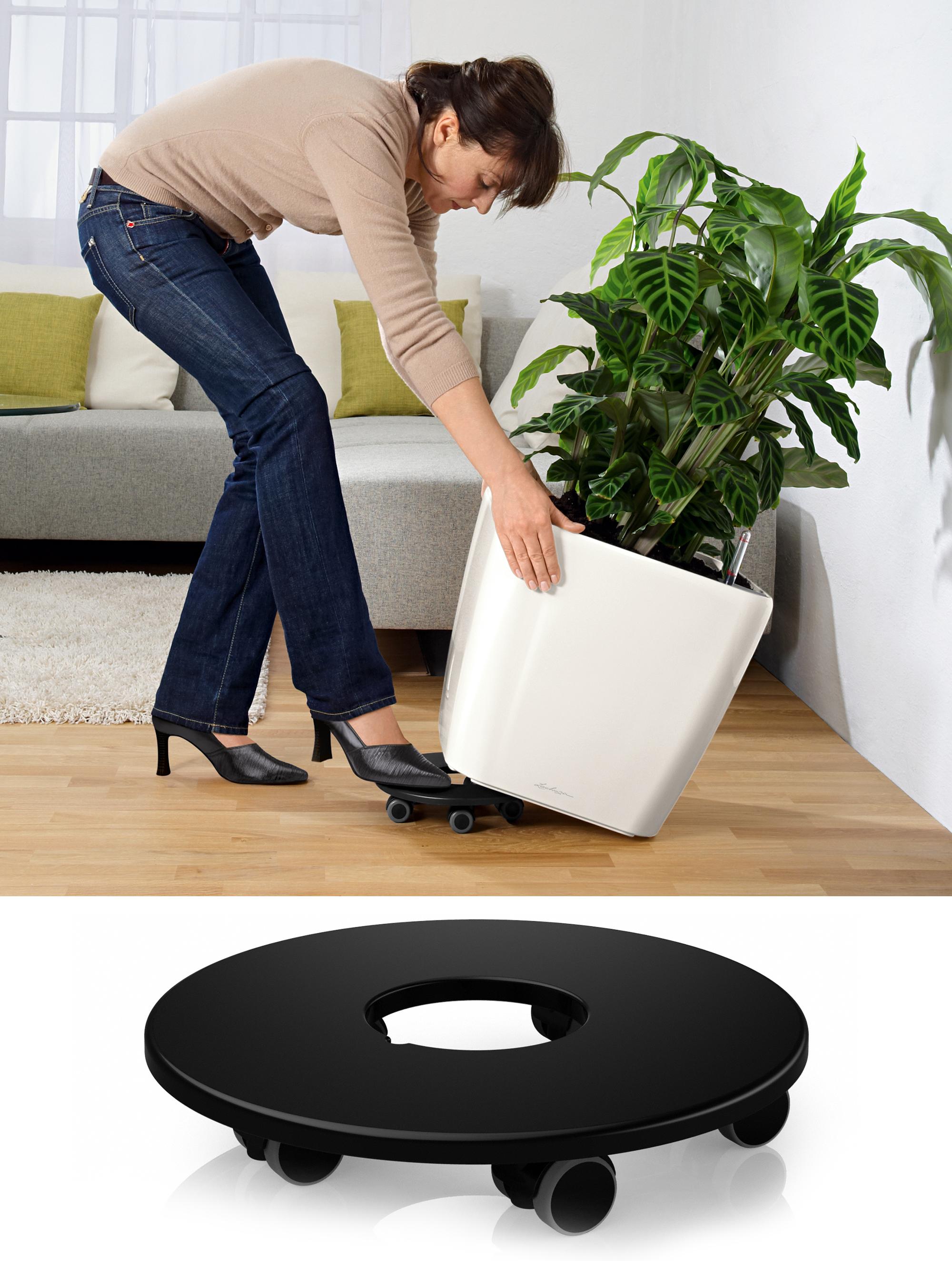 Available Accessories: Coaster
mobile in every direction
with sturdy rollers
makes QUADRO mobile – without being seen
for sizes 43, 50
Dimensions & Capacity
| | | | | | |
| --- | --- | --- | --- | --- | --- |
| | QUADRO LS 21 | QUADRO LS 28 | QUADRO LS 35 | QUADRO LS 43 | QUADRO LS 50 |
| Dimensions ~ (W x D x H) | 22,5 x 22,5 x 20,5 cm | 28 x 28 x 26 cm | 35,5 x 35,5 x 32,5 cm | 43 x 43 x 39 cm | 50 x 50 x 46,5 cm |
| Water reservoir | 1,1 l | 2,5 l | 4,5 l | 9,7 l | 14,5 l |
| Plant volume | 4 l | 9 l | 17 l | 32 l | 53 l |
| Planter liner, dimension ~ | 18,5 x 18,5 cm | 23,5 x 23,5 cm | 29,5 x 29,5 cm | 36,5 x 36,5 cm | 43 x 43 cm |
| Planting depth | 13,5 cm | 17,5 cm | 22,5 cm | 26,5 cm | 31,5 cm |
| Plant height max. | 50 cm | 70 cm | 90 cm | 100 cm | 120 cm |
QUADRO LS 50
| | |
| --- | --- |
| Dimensions ~ (W x D x H) | 50 x 50 x 46,5 cm |
| Water reservoir | 14,5 l |
| Plant volume | 53 l |
| Planter liner, dimension ~ | 43 x 43 cm |
| Planting depth | 31,5 cm |
| Plant height max. | 120 cm |
QUADRO LS 21
| | |
| --- | --- |
| Dimensions ~ (W x D x H) | 22,5 x 22,5 x 20,5 cm |
| Water reservoir | 1,1 l |
| Plant volume | 4 l |
| Planter liner, dimension ~ | 18,5 x 18,5 cm |
| Planting depth | 13,5 cm |
| Plant height max. | 50 cm |
QUADRO LS 28
| | |
| --- | --- |
| Dimensions ~ (W x D x H) | 28 x 28 x 26 cm |
| Water reservoir | 2,5 l |
| Plant volume | 9 l |
| Planter liner, dimension ~ | 23,5 x 23,5 cm |
| Planting depth | 17,5 cm |
| Plant height max. | 70 cm |
QUADRO LS 35
| | |
| --- | --- |
| Dimensions ~ (W x D x H) | 35,5 x 35,5 x 32,5 cm |
| Water reservoir | 4,5 l |
| Plant volume | 17 l |
| Planter liner, dimension ~ | 29,5 x 29,5 cm |
| Planting depth | 22,5 cm |
| Plant height max. | 90 cm |
QUADRO LS 43
| | |
| --- | --- |
| Dimensions ~ (W x D x H) | 43 x 43 x 39 cm |
| Water reservoir | 9,7 l |
| Plant volume | 32 l |
| Planter liner, dimension ~ | 36,5 x 36,5 cm |
| Planting depth | 26,5 cm |
| Plant height max. | 100 cm |
*No cash payment possible. Promotion does not apply to previous or open orders. In addition to that you do not pay shipping costs within the UK Mainland on all orders over £50.00