CUBICO 30 white high-gloss + charcoal metallic
Planters + Removable planter liners + Water level indicators + Plant substrates
Availability in the UK:
In Stock
Purchase without risk: 30 days return and refund. 3 years warranty. True LECHUZA planters.
incl. V.A.T. |

free shipping
Shipping:
Up to £49.99 = £3.99
Over £50.00 = free shipping
Trade customer? Please call to get trade discounts.
Special features:
Self-watering planter - 2 pcs
Removable planter liner with water level indicator
High-quality plastic with metallic or glossy surface
High-quality pure mineral plant substrate included
For outdoor and indoor use
As a standalone planter or in an arrangement, the CUBICO Premium sets bold accents in apartments, lobbies, and business zones, and thanks to its subtle colors and various sizes it can be tastefully combined anywhere. A stylish design statement for the premium class! And with the CUBICO 30 coaster and CUBICO 40 coaster, the planter is mobile even when planted.
Unique advantages:
Planter liner and sub-irrigation set included
Coasters available for CUBICO 30 and 40
Set components

CUBICO 30 white high-gloss
Item No. 18181
CUBICO 30 charcoal metallic
Item No. 18184
Product information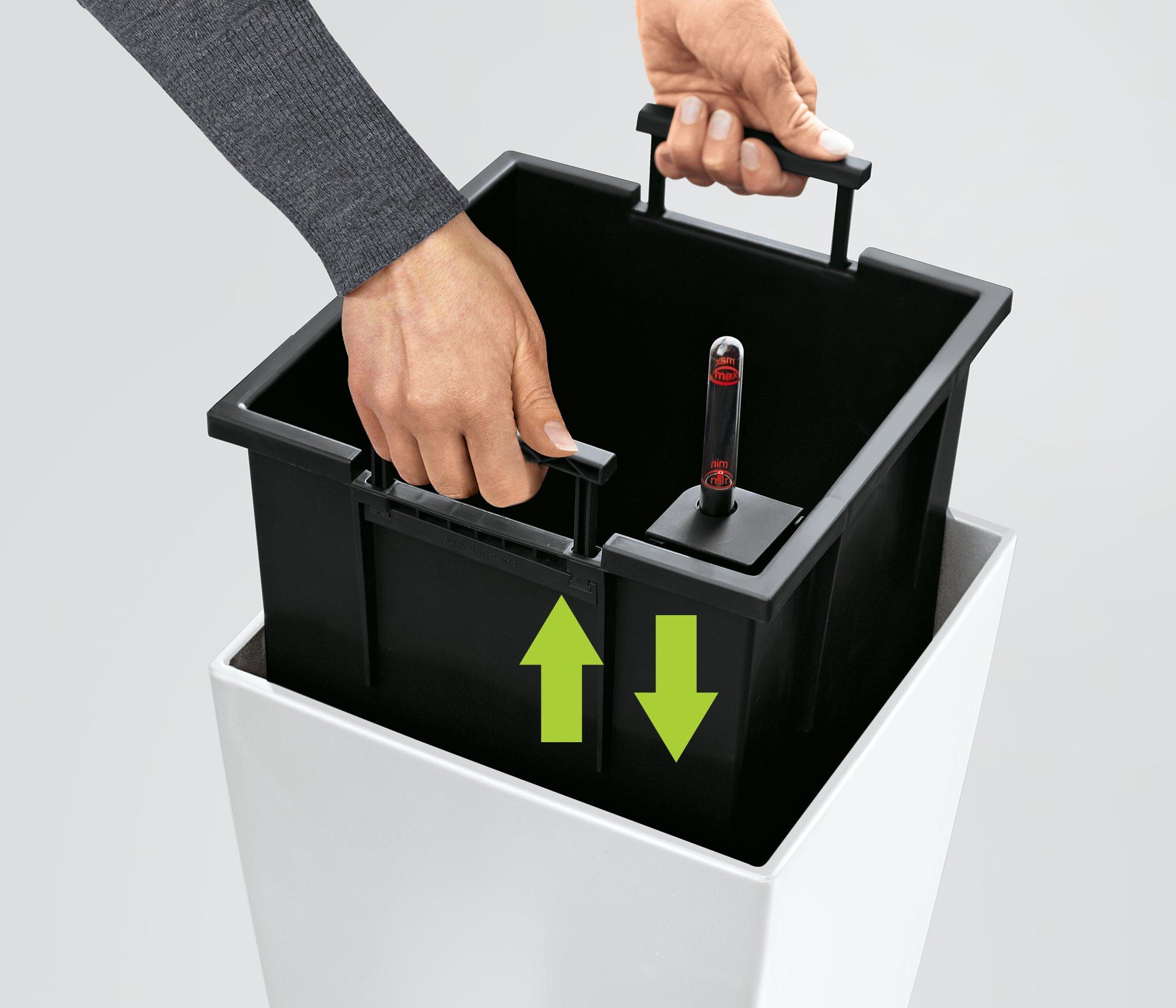 CUBICO planter liner
sturdy carrying handles (patented)
easy transport even for tall plantings
can be exchanged on the spot
easily moved for space-saving winter storage
The CUBICO 30 planter liner also fits in the TRIO 30, the CUBICO 40 and ALTO planter liner also fit in the CUBE 40 and TRIO 40.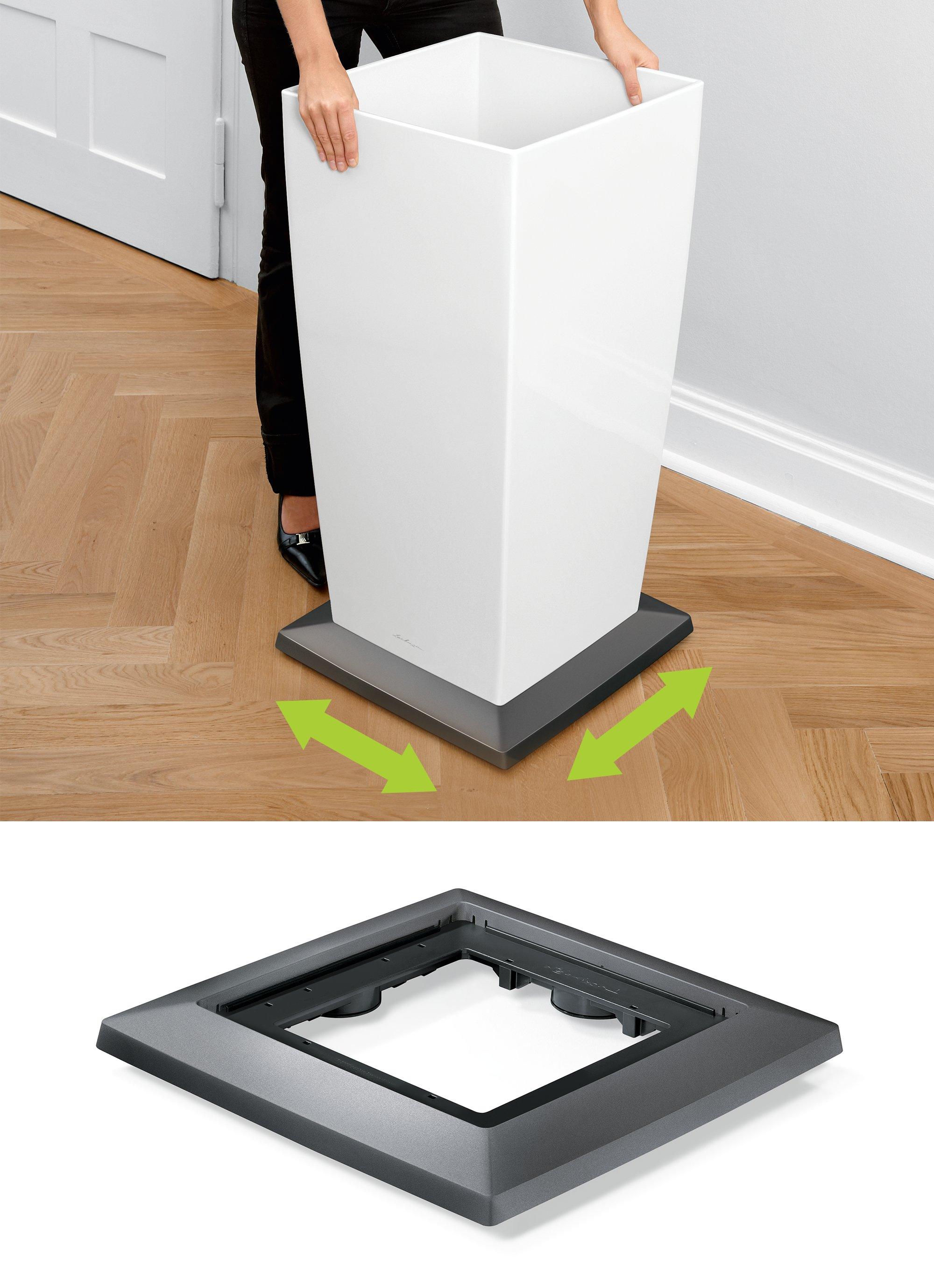 Available accessories: CUBICO Coaster
mobile in every direction
with four sturdy rollers
available for CUBICO 30 and 40
Dimensions & Capacity
| | | | | |
| --- | --- | --- | --- | --- |
| | CUBICO 22 | CUBICO 30 | CUBICO 40 | CUBICO 50 |
| Dimensions ~ (W x D x H) | 22 x 22 x 41 cm | 29,5 x 29,5 x 56,5 cm | 39,5 x 39,5 x 75,5 cm | 50 x 50 x 95 cm |
| Water reservoir | 2 l | 4 l | 7,5 l | 14 l |
| Plant volume | 6 l | 14 l | 31 l | 61 l |
| Planter liner, dimension ~ | 18,5 x 18,5 cm | 25 x 25 cm | 34,5 x 34,5 cm | 44 x 44 cm |
| Planting depth | 17,5 cm | 23 cm | 28 cm | 32 cm |
| Plant height max. | 50 cm | 60 cm | 100 cm | 160 cm |
CUBICO 30
| | |
| --- | --- |
| Dimensions ~ (W x D x H) | 29,5 x 29,5 x 56,5 cm |
| Water reservoir | 4 l |
| Plant volume | 14 l |
| Planter liner, dimension ~ | 25 x 25 cm |
| Planting depth | 23 cm |
| Plant height max. | 60 cm |
CUBICO 22
| | |
| --- | --- |
| Dimensions ~ (W x D x H) | 22 x 22 x 41 cm |
| Water reservoir | 2 l |
| Plant volume | 6 l |
| Planter liner, dimension ~ | 18,5 x 18,5 cm |
| Planting depth | 17,5 cm |
| Plant height max. | 50 cm |
CUBICO 40
| | |
| --- | --- |
| Dimensions ~ (W x D x H) | 39,5 x 39,5 x 75,5 cm |
| Water reservoir | 7,5 l |
| Plant volume | 31 l |
| Planter liner, dimension ~ | 34,5 x 34,5 cm |
| Planting depth | 28 cm |
| Plant height max. | 100 cm |
CUBICO 50
| | |
| --- | --- |
| Dimensions ~ (W x D x H) | 50 x 50 x 95 cm |
| Water reservoir | 14 l |
| Plant volume | 61 l |
| Planter liner, dimension ~ | 44 x 44 cm |
| Planting depth | 32 cm |
| Plant height max. | 160 cm |
&sup1 Promotion is valid from 1st-31st August 2020 and only while stocks last. From a minimum order value of £199, you get one CUBE 14 herb planter (13386) for free. No cash payment possible. Without planting. For all (partial) cancellations below a purchase value of £199, the bonus product must be enclosed as a return. Promotion does not apply to previous orders, open orders, set offers or spare parts. Cannot be combined with promo codes. In addition to that you do not pay shipping costs for orders within Great Britain on all orders over £50.
* LECHUZA sets and spare parts are excluded from all promotional discount codes.
**No cash payment possible. Promotion does not apply to previous or open orders. In addition to that you do not pay shipping costs within the UK Mainland on all orders over £50.00