CLASSICO Color 28 purple garnet
out of stock
Total price
Please note that sales tax applies. All prices are exclusive of decoration and plant.
Shipping and Handling: Standard Delivery Costs: Order Value up to £10.00 = £2.95. Order Value from £10.01 = £10.00 (£15.00 Channel Islands)
All packages are shipped via UPS Standard

. Shipping and handling fees are not refundable. Delivery will normally be made within 7 - 10 working days after your order is accepted.
CLASSICO Color 28 purple garnet All-in-One Set
CLASSICO Color in new colours
Nutmeg is a warm tone that perfectly contrasts with black or white. Purple garnet creates exciting accents even in low-key environments. Slate is a versatile colour that combines well with both strong tones and subdued colours.
Accessories:
Coaster for CLASSICO
All-in-One Set includes

planter with drain plug and overflow function + sub-irrigation set
The original LECHUZA sub-irrigation system
LECHUZA's sub-irrigation system takes care of your plants for you for up to 12 weeks, ensuring that they receive the right amount of water and nutrients they need for optimum growth.
available accessories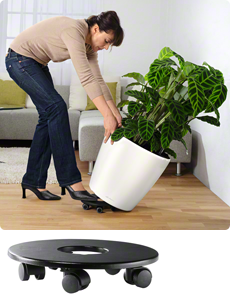 coaster
mobile in every direction
with sturdy rollers
makes CLASSICO mobile – without being seen
for size 43